As I tucked him in last night, Jack softly whispered to me, "I'm going to miss you when I go back to school, mom."
While most parents have had an ongoing countdown for their kids to go back to school, I've been weepy about my big boy going back to school. It could be a reflection of my sometimes-fragile state or, quite simply, it could be that I enjoy spending time with my kids. Jack is at the age where his personality has solidified; his humor and wit are impeccable, especially when wrangling my difficult toddler. As his first teacher told me, he's a pleaser and is always looking to help out in one way or another. I can't take all the credit for his kind character, but I will say that I enjoy being with him every day.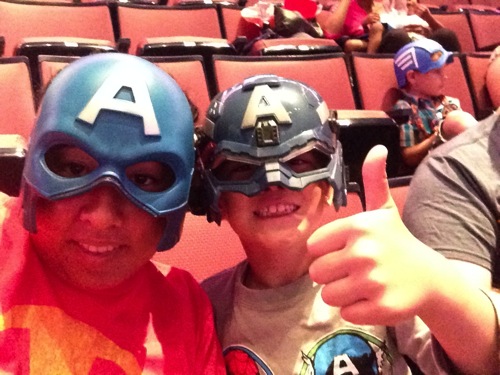 In the early days of parenthood, in my head, I've always told myself that I'd like to nurture my kid to be the kind of person I want to be around. It's always an exhausting feat to endure and break down the cycle of whining and unnecessary roughness of toddlerhood. Those are the toughest years so far—or should I say these are the toughest years, since Josh is currently in them! If I remember correctly, once the toddler/preschooler can communicate, you can (somewhat) start to rationalize with the kids. Once you're able to rationalize with the kids, your relationship, ultimately, gets easier. Less yelling and less chaos FTW!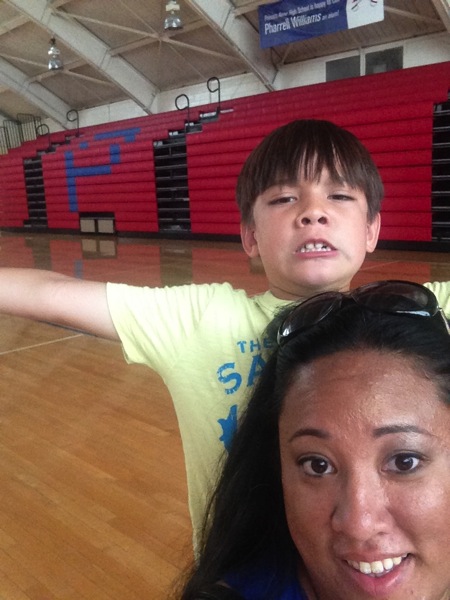 With Jack going back to school, we get to revert back to our hectic schedules of therapy, school, sports and work. I've loved having my helper around all day, every day. It's been nice having a companion during all of Josh's therapies; someone to chat with so that I don't overanalyze Josh's (mis)behavior during his therapy. I'll now have to get diapers on my own, as in, actually get up and parent. I'll miss my big boy begging to go to the beach at 9am, before I even had a chance to finish my coffee, never mind do a little work. I'll miss my big guy running into the kitchen mid-day, after I drop a heavy pan and offering a hand to help. But most of all, I'll miss watching biggie and littles hang out  just being brothers—fight even—all day.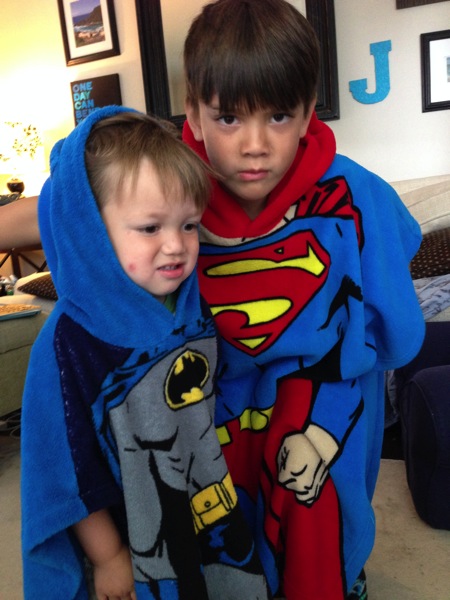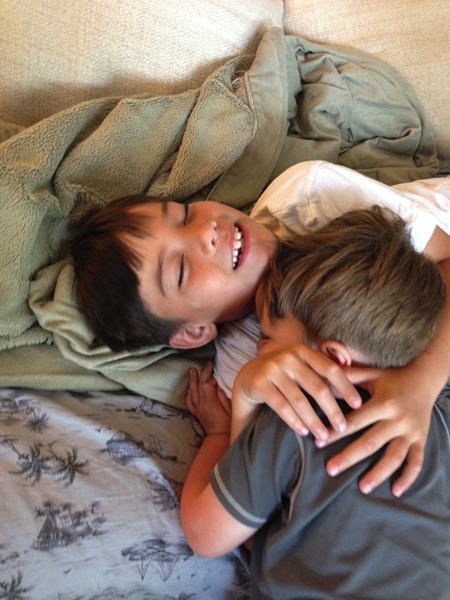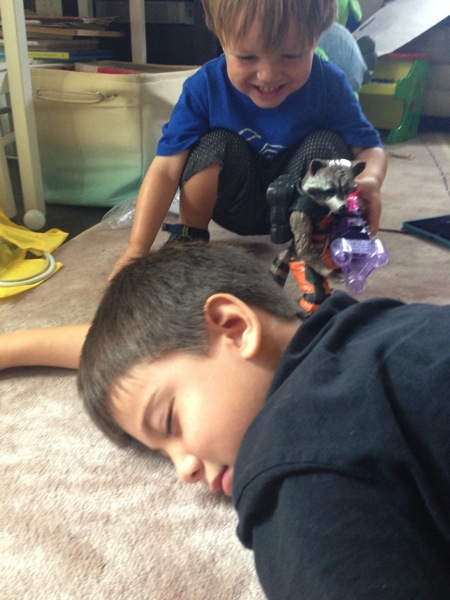 I don't have too many years left for walking my oldest to school on the first day, so I asked Jack if I could walk him in today. With teary eyes and a lump in my throat for the inevitable 'no,' Jack decided that a mom-accompanied door drop off was acceptable. For me, it feels stifling to let the kid grow up, but without growth, there would be no room for them to breathe. Selfishly, I want them to stay little forever. Moments after I walked him to the gym, he spotted his classmates. He looked back and waved half-heartedly, focusing his attention to his friends: that's when I knew letting go, even for the first day of school, is the best thing for him.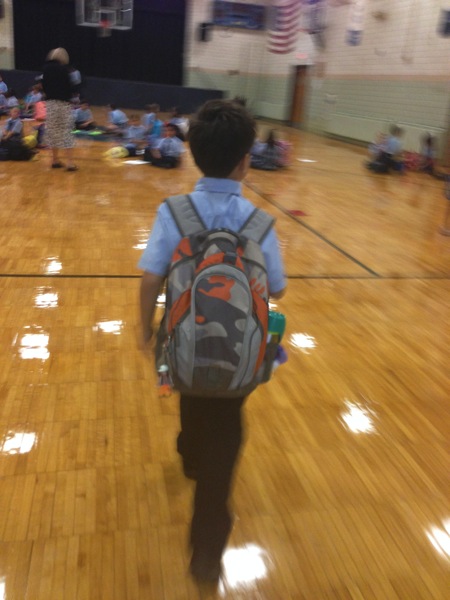 Before he gets too old to appreciate my quirkiness and creativity, I won't apologize for making fun lunches, personalized signs, mom notes with stickers…because, why? Like so many others, I'm always running on borrowed time focusing on my needier child, who says I can't put creative effort into making my other one smile and feel special? You do you and your people. AmIright?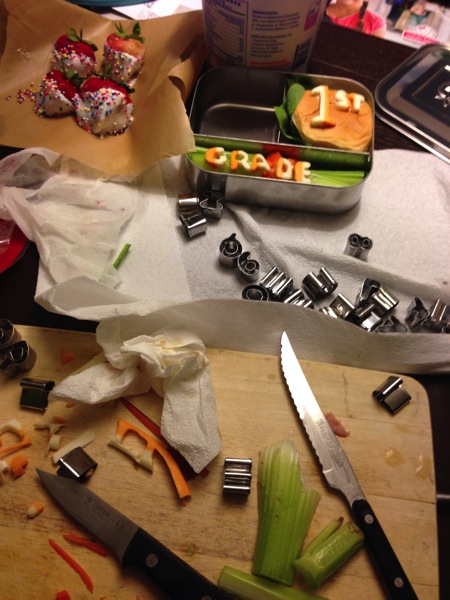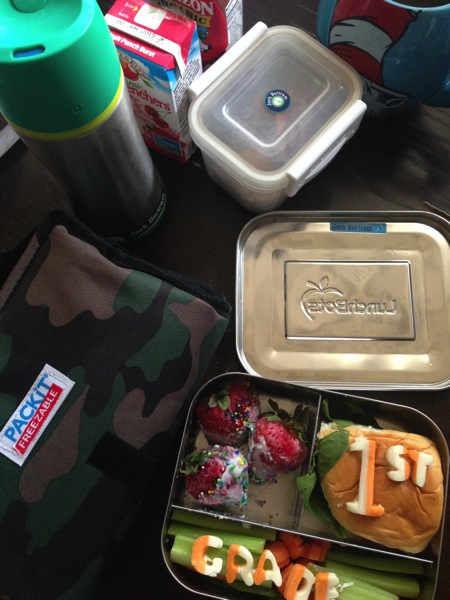 I know there's a school of thought that celebrates the shortcomings of parenthood. Most days, I'd be VP of that club, all while shoving clutter into a closet, hoping no one opens it. We're far from perfect around here, so we're going to celebrate what makes US happy, especially if it includes cutting out letters in cheese. Because, why not?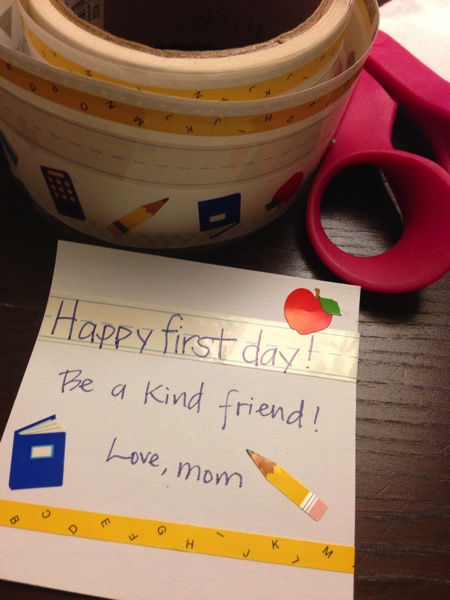 Happy first day of school, Bigs!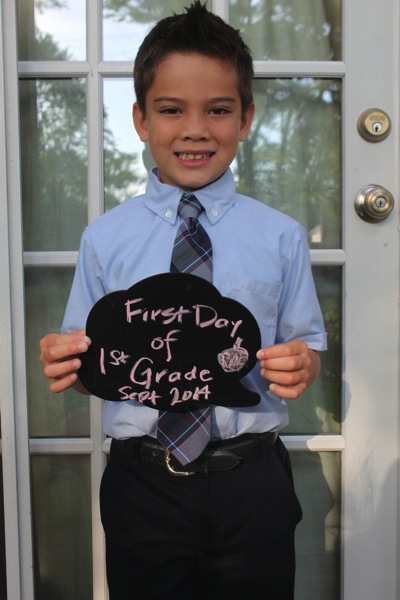 Hope you and your crew have a great school year!