Dear Jackson,
Five was an incredible year. I watched your baby face transition to a more handsome and mature boy; a face that takes a lot of punches and blows from the myriad of sports you love, not to mention wrestling our baby Monster. As rough and tumble as you are, your handsome looks and cheery disposition often attract kind comments and gracious praise.

(photo credit: Jane Goodrich Photography)
Your heart is as big as ever, truly embracing the lessons of humility you've been taught. You're conscientious and always willing to take the fall for someone else. As you begin to recognize the minutiae that makes up our world—specifically, multiculturalism, race and medical challenges—and how it intersects with your own life, ultimately, you accept that we're all different and that makes us rather cool.
You thrive on being a leader, almost to a fault. As you grow, you often confuse assertiveness with bossiness, something that we're totally working on. And, dude, by the way, you're not always right.
Your love for all things superheroes, music, and now, sports, keeps us busy with all of your interests. You no longer respect Justin Beiber because, as you appropriately put it, "He said a bad word to the government."

You still sing and dance, and your passion for superheroes has grown to the next level. The Aquabats, appropriately, are your imaginary heroes. When the time is right, you break into song as MC Bat Commander would, chanting about the craziness that is, Burger Rain. Ross Lynch and Teen Beach Movie are on constant loop, too. But truthfully, those songs and dances are too old for my liking.
Beyond rockstar super heroes and superstar ball players, this year, you've channeled your creative side onto paper. When you started transitional kindergarten last year, you've grown to love art work, drawing and coloring every chance you get.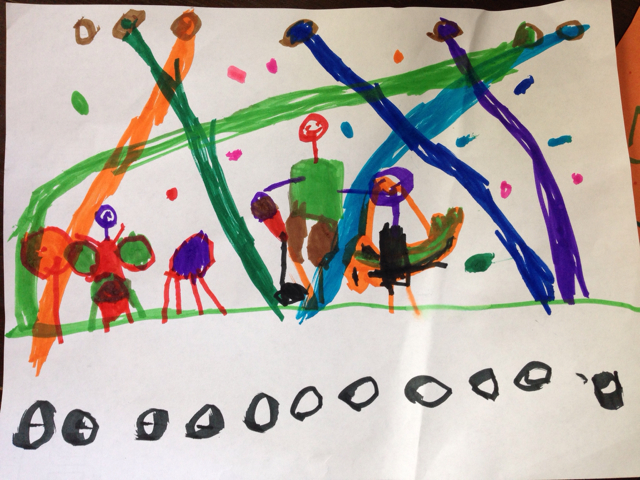 As a kindergartener, your art has become synonymous with your thought process. Superheroes are often your storylines, but your love for our family is often depicted on paper the most. You now carefully craft your people and faces beyond stick figures and have started to add cars too. The fact that you can sit still long enough to finish your artwork and/or coloring several pages at a time is a testament to our decision to have you start Kindergarten at 5.
The year of healing is depicted on paper via your happy art, which, to me, equates to our own art therapy. Our art cart that we created this summer is now our mobile art supply storage, and hopefully, my gift of embracing your creative side. I love that you love to write and are learning to appreciate reading. To see you make books, unprompted, makes your print journalist mama proud.
At 6, you still sleep with a stuffed animal, usually Mr. Teddy. Similarly, you willingly hold my hand. As you flirt with girls and worry about your hair a little too much now, I know the hand-holding and stuffed animal stage will eventually phase out. But for now, I won't rush you.
I was blessed with a first born like you because when times are tough, like they've been, you wipe my tears and never hesitate to hold me up.


When I bark orders, you willingly respond and never question my authority. You're quick to wipe baby brother's boogers, throw away his diapers and even help do laundry to save my sanity. As your teacher told me last year, you're a pleaser and a go-getter, qualities that help us stay afloat as we navigate specialist appointments and therapy sessions for Josh head-on.
You redefined my life six years ago, kid, and for that, I am forever grateful. It's an honor to be your mom and to be loved by someone as kind as you.
Love,
Mom